reviews_and_ramblings
Władziu Valentino Liberace (May 16, 1919 – February 4, 1987), mononymously known as Liberace, was an American pianist and vocalist. (
P:
Allan Warren
. Portrait of Liberace at home Los Angeles, 1974
)
A child prodigy, and the first generation son of working class immigrants, Liberace's career spanned four decades of concerts, recordings, motion pictures, television, and endorsements. At the height of his fame from 1950s to the 1970s Liberace was the highest-paid entertainer in the world, with established residencies in Las Vegas, and an international touring schedule. Liberace embraced a lifestyle of flamboyant excess both on and off stage, and acquired the sobriquet "Mr. Showmanship". Liberace was recognised during his career with two Emmy Awards, six gold albums and two stars on the Hollywood Walk of Fame.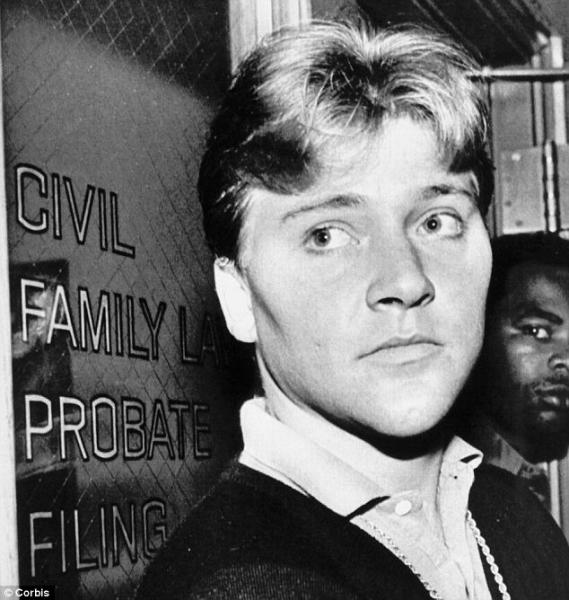 Coming of age during a time when being openly Gay could destroy one's career and endanger one's life, Liberace publicly and adamantly denied his sexual preference during his entire career. He successfully sued two publications via high profile lawsuits (The Daily Mirror and Confidential) who claimed he was Gay, winning thousands of dollars in compensation and legal fees.
In 1982, Scott Thorson, Liberace's 22-year-old former chauffeur and live-in lover of five years, sued the pianist for $113 million in palimony after he was let go by Liberace. Liberace continued publicly to deny that he was homosexual and insisted that Thorson was never his lover. The case was settled out of court in 1986, with Thorson receiving a $75,000 settlement. Thorson stated after Liberace's death that he settled because he knew that Liberace was in profoundly ill health, and that he had intended to sue based on conversion of property rather than palimony.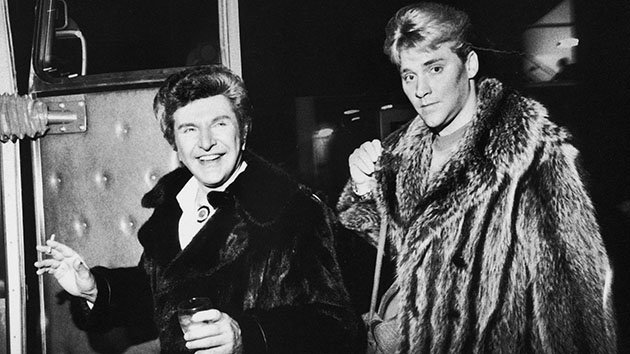 Władziu Valentino Liberace (May 16, 1919 – February 4, 1987), mononymously known as Liberace, was an American pianist and vocalist. In 1982, Scott Thorson, Liberace's 22-year-old former chauffeur and live-in lover of five years, sued the pianist for $113 million in palimony after he was let go by Liberace. Liberace continued publicly to deny that he was homosexual and insisted that Thorson was never his lover. The case was settled out of court in 1986, with Thorson receiving a $75000 settlement.
Liberace also released a coffee table book in his life and performed 21 sold out shows at Radio City Music Hall which set box office records a few months before his death in Palm Springs, California on February 4th 1987. Liberace's death remains controversial due to the fact that there had been rumours prior to his passing that he had contracted the Aids virus which his management, publicist, friends and even Liberace himself had vehemently denied. Ultimately the Riverside County coroner ordered an official autopsy against the wishes of his estate and determined that Liberace had died of Aids related illness making him the second major celebrity after Rock Hudson to officially succumb to the illness during the early days of media frenzy surrounding the disease.
Worth over 110 million dollars at his time of death, Liberace left the bulk of his estate to his scholarship foundation and while his official museum closed its doors in 2010 due to an economic downturn, in November 2013 a few dozen of his famous costumes and cars went on display for six-week exhibition at the Cosmopolitan Las Vegas. The installation is titled "Too Much of a Good Thing Is Wonderful" which was also Liberace's unofficial motto and often used one liner from his act. A highly acclaimed biographical film for HBO Behind the Candelabra, achieved the highest ratings for an HBO TV film since 2004. Starring Michael Douglas as Liberace and directed by Steven Soderbergh, the film has sparked renewed interest in Liberace's life and times.
Scott Thorson (born January 23, 1959) became famous for his relationship with and lawsuit against the late entertainer Liberace and his testimony against gangster Eddie Nash.
Thorson met Liberace in 1976, through his backdoor friendship with dancer Bob Street who was a friend Hollywood producer Ray Arnett who was staging Liberace's shows in Vegas. When Thorson was 18, Liberace hired him to act as his personal friend and companion, a position that allegedly included a five-year romantic relationship with lavish gifts, travel, and Liberace's promises that he would adopt and care for Thorson. Other sources, such as Thorson's own book Behind the Candelabra: My Life with Liberace, list Thorson's age at 18 when he met Liberace though Thorson has in recent years claimed he was "16" and Liberace was "48 years older" at the time of their first meeting. Liberace also incorporated Thorson into his Las Vegas stage performances (e.g., Thorson drove Liberace's Rolls-Royce onstage, and was a dancer). According to Thorson, their committed relationship ended because of Liberace's promiscuous behavior and Thorson's drug addiction. Thorson stated that following his plastic surgery, the surgeon provided for him a cocktail of highly addictive drugs that included cocaine, quaaludes, biphetamines, and Demerol.
In 1982, Thorson filed a $113 million lawsuit against Liberace, part of which was a palimony suit. In 1986, Thorson and Liberace agreed to settle out of court for $95,000, three cars, and two pet dogs. He visited and reconciled with Liberace shortly before the entertainer's death in 1987. A year later, Thorson published a book about their relationship, Behind the Candelabra: My Life with Liberace, which was later adapted by Richard LaGravenese and Steven Soderbergh into the 2013 film Behind the Candelabra, in which Thorson was played by Matt Damon opposite Michael Douglas as Liberace.
In 1989, Thorson emerged as a pivotal witness in the prosecution of gangster Eddie Nash in the 1981 quadruple murders of the Wonderland Gang. For his testimony, he was placed in the federal witness protection program. In 1990, he was shot five times when drug dealers broke into his hotel room in Jacksonville, Florida.
In 2000, Thorson was among several people featured in the British television documentary Liberace: Too Much of a Good Thing Is Wonderful. In 2002, he was interviewed by Larry King on Larry King Live. In the midst of his relationship with Liberace, Thorson confirmed he chose to have plastic surgery to look more like Liberace at the pianist's suggestion. During the interview with King, Thorson revealed his chin implant had been removed earlier in 2002.
In 2008, Thorson pleaded guilty to felony drug and burglary charges and was sentenced to four years in prison. He was subsequently released.
Following his release, Thorson gave a number of interviews about his relationship with Liberace. His most notable interview was with Howard Stern on Monday, June 17, 2013 on his Sirius XM radio show and was not shy about revealing everything about his famous, former lovers and his own affairs he had when he was with Liberace. Another interview was on Entertainment Tonight in May 2012, where he stated that memories of his time with Liberace were still difficult for him.
Previously diagnosed with hepatitis C, Thorson was diagnosed with stage II cancer in the autumn of 2012. Since his diagnosis, Thorson has made public pleas for money to continue his medical treatments. Recently, Thorson has been actively involved in writing a second book about his relationship with Liberace, a followup to Behind the Candelabra.
In February 2013, police investigating a lost wallet tracked the use of the victim's credit cards to a hotel in Reno, Nevada. Thorson was found to be using the credit cards, including renting a room at the Ponderosa Hotel in Reno, and was arrested. Thorson (who also uses the alias Jess Marlow, an alias he says occurred when he entered the federal witness protection program as the star witness in the 1989 prosecution of Eddie Nash) was booked on a variety of charges, including burglary, and using a credit card without consent. He pleaded guilty and was sentenced to five years' probation.
An HBO original movie, Behind the Candelabra, based on Thorson's book Behind the Candelabra: My Life with Liberace, aired on HBO on May 26, 2013. The film features Matt Damon as Thorson and Michael Douglas as Liberace, and is the first movie on the Thorson–Liberace relationship and its aftermath since the Canada–US made-for-TV movie Liberace: Behind the Music (1988), where Thorson was portrayed by Michael Dolan. Behind the Candelabra is directed by Steven Soderbergh from a screenplay by Richard LaGravenese, with music by Academy Award-winning composer Marvin Hamlisch.
Source:
en.wikipedia.org/wiki/Liberace
Further Readings:
Behind the Candelabra: My Life With Liberace by Scott Thorson
Perfect Paperback: 232 pages
Publisher: Tantor Media; 1 edition (May 14, 2013)
Language: English
ISBN-10: 0988349485
ISBN-13: 978-0988349483
Amazon:
Behind the Candelabra: My Life With Liberace
Amazon Kindle:
Behind the Candelabra: My Life With Liberace
In this unusually frank book Scott Thorson tells all: the good, the bad, and the ugly truths about a legendary entertainer who went to outrageous extremes to prevent public knowledge of his homosexuality. Liberace's unhappy childhood, dominated by a mother determined to force him into a concert career, serves as the prologue for a story that goes on to detail Liberace's early appearances in honky-tonks, his move to New York to seek fame, and, finally, his first booking in Las Vegas, where he was courted by the Mafia. His successes create a bright counterpoint to a darker tale of a man hungry for power, given to every excess. Liberace's credo—"too much of a good thing is wonderful"—is reflected here in his acquisition of new lovers, luxurious homes, a large collection of pornography, and a total of twenty-six house dogs. Behind the Candelabra also reveals the details of the fundamentally tender love affair between Liberace and Thorson—whom Liberace sent to his own plastic surgeon to have his face remodeled in Liberace's own image! This fast-paced story, sprinkled with anecdotes about famous entertainers such as Michael Jackson and Shirley MacLaine, ends with an intimate look at Liberace's final days as he lay dying of AIDS—and his deathbed reconciliation with Scott.
More LGBT Couples at my website:
www.elisarolle.com/
, My Ramblings/Real Life Romance