reviews_and_ramblings
Mael Black, the prince of London, and Cian Carmichael are a strange couple. Cian is an angel but his behavior is far from angelic; he is a warrior and even if he is a match for Mael, I feel him like the strongest in the couple. Or maybe is only since Mael is more a brooding character, it's most difficult to read his feelings. Even if Cian is dangerous, he is more open than Mael, and in a way, more exposed to danger.
In the sequel of The Prince's Angel the supporting characters are almost as important as Mael and Cian. There is the developing of the story between Cornelius and Brandon, old enemies who change their face like Selena and Lee, new friends like Michael. This is a choral book, and every little story concurs to entertwin a very complex book, as complex as the fantasy world that recreates, a gothic tale dark and dangerous as dark and dangerous is the night where it is setting.
From the first book, Cian is changing, maybe love makes him more vulnerable. In the first book, even if Cian was the warrior of the light, he was close and mourning, so dark that in comparison Mael was nicer. Now instead Cian is more open and it's the turn of Mael to face the hostility of his court for his chosen companion: not all are happy that he is consorting with a vampire hunter... And so the enemy are outside, but also inside his very home.
Mael is somewhat undertone; in the previous book Cian and Mael are balanced opponents and lovers, here instead the lion share goes to Cian.
The book is not very long, 125 pages, and there is also a lot of sex, not only between Mael and Cian, but also between other supporting characters, like Cornelius and Brandon (I like this couple, I think they stole a bit the scene to Mael and Cian). Although sex is between ethereal creatures like angels and immortal creatures like vampires, it's a very "normal" erotic act, very humanly, if not for a bit of blood play.
The book end with an open point... will Black and Carmichael thinking to a third book?
P.S. Wonderful cover by Anne Cain, I believe at her debut for Torquere Press
http://www.torquerebooks.com/zencart
Amazon Kindle:
And the Two Shall Become One
Amazon:
And the Two Shall Become One
Series:
1) The Prince's Angel:
http://elisa-rolle.livejournal.com/66739.html
2) And the Two Shall Become One
Reading List:
http://www.librarything.com/catalog_bottom.php?tag=reading list&view=elisa.rolle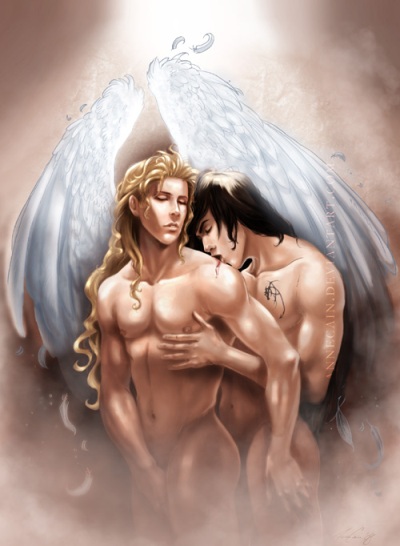 Cover Art by Anne Cain