reviews_and_ramblings
As often when dealing with the gods of Olympus, this story is not a romance but more an erotic escapades, like most of the myths where it seems that all actions and resolutions are driven by sex.
The story starts quite abruptly, Stephen is an archaeologist whose reputation was destroyed from the useless research of an artefact, the Aphrodite's necklace. When Alex, one of his assistant, comes to his room claiming to have found the necklace, Stephen has nothing to loose to follow him to the ancient Minoan ruins. From that moment on, all worlds, up and under, break loose, and Stephen is not more in command of his mind and body.
When Stephen and Alex were in the "ordinary" world, I had the feeling that Stephen was the upper hand in their relationship; maybe since Alex was his assistant, maybe since I had the feeling that Alex was younger than Stephen. But when they are dragged in the underworld, Stephen immediately loses any appearance of independence, to become almost a sex toy. Everyone seems to want to use him for sex, various mythological figures enter the scene, and everyone wants a piece of Stephen.
In all of this Alex plays the role of supervisor, he is a bit jealous of Stephen, but not since he doesn't want other men to have sex with him, but only since he wants to be there to direct the scene. If Stephen is willing, and ready, Alex has nothing against the idea to "borrow" him, even sometime to participate. Sex is the main event in this story, and the normal sexual boundaries of modern time are not applicable here. There is no knowledge of exclusivity or betrayal, at least not with a sexual meaning. There is neither actually a concept of straight, gay or even bisexual, sex is sex, in every possible pairs, or with as many partners at once.
There is even a plot, a mission to accomplish, but it's not the most important event in the story. So no, if you want to read a romance, a love story, this is not your book. But if you want to read about mischievous gods or semi-gods and playful humans more than willing to amuse them, in this story Stephen finds out a side of himself, that he was not aware of, that being a sex toy could be at the same time dangerous and satisfying.
http://www.jasminejade.com/pm-7795-229-for-olympus-sake.aspx
Reading List:
http://www.librarything.com/catalog_bottom.php?tag=reading list&view=elisa.rolle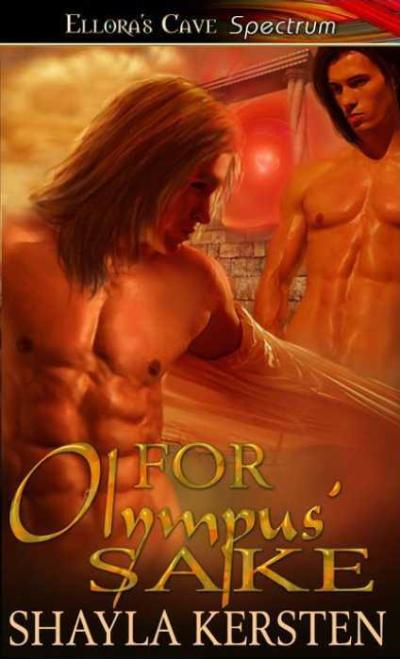 Cover Art by Dar Albert