I followed this couple of billionaires around the world for the last three books, so my judgment is probably biased, but I really feel like they are old friends and I know all their antics and like with friends, you accept them and smile with indulgence.
Glen & Tyler are very young and very wealthy, a wealth that is impossible to imagine. They are married and in love and doesn't care if that is not legal in some of the countries they are visiting, where it counts they have the backup of their wedding contract and where it doesn't count, they have Tyler's millions to let them be not only accepted, but also welcomed, everywhere. They are using the world as their personal playfield, the political contacts as aces in the sleeves, and the money as tokens. If they see something wrong, they simply make a call and have it righted. Is it real? Is it possible? Maybe not, but that is not the reason why you are reading Glen & Tyler Adventures, you want the dream of impossible, you want the little satisfaction Tyler is feeling when he can say, Glen, my husband, and have him threated better than a king.
While quite clever and cultured, both Glen than Tyler are basically young men with still the wish to enjoy life without much commitment, aside from the commitment they took with each other. As such, in more than one occasion, the author highlighted how they still enjoy to admire the players in the field, both men and women, but in the end, they are exclusive with each other and the game remain on a watch don't touch level. Glen and Tyler decided to be together because they were in love, not since they didn't have any other option, in a way the body would be willing to try, but their heart is binding them to their marriage votes.
I have to warn the possible reader, to fully appreciated this series, you have to start from book 1.
Amazon Kindle:
Glen & Tyler's Paris Double-cross (Glen & Tyler Adventures)
Sold by: Amazon Digital Services, Inc.
Series: Glen & Tyler
1) Honeymoon Adventure:
http://elisa-rolle.livejournal.com/1470902.html
2) Scottish Troubles:
http://elisa-rolle.livejournal.com/1794775.html
3) Paris Double-cross
Reading List:
http://www.librarything.com/catalog_bottom.php?tag=reading list&view=elisa.rolle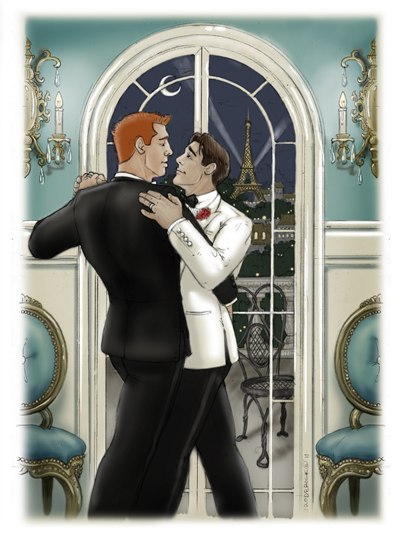 Cover Art by Michael Broderick