reviews_and_ramblings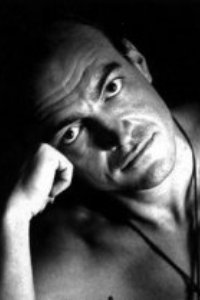 "I'm often asked why I became a writer.
Usually, I'll give some hoity-toity answer about 'expressing myself' and 'all the stories I want to tell' and the 'joy of creation.'
The real truth is I can't hold a job.
If I had a dollar for every time I've been fired, or the place I worked went out of business—well, I'd be sipping a margarita on a gorgeous white sand beach on a tropical island somewhere. It's sad, but true. I've tried just about everything—fast food, retail, airlines, travel, bank teller, insurance, natural gas sales—but in almost every case, either the business shut down or I got a pink slip.
I finally realized it was the Universe telling me to chase my dreams and start writing—and I've never looked back.
At this time, under my own or one of my pseudonyms, I've published over twenty novels. I won't list them here—they're elsewhere on this site, but definitely take a look and buy them—they make excellent gifts!
I was born in Alabama but grew up in Chicago. I graduated high school and started college in Kansas, finishing in California, and then I moved to Houston for a few years. After Houston, I lived in Tampa for four years before eight months in Minneapolis (too cold!) and finally, I made it down here to New Orleans.
Like Tennessee Williams, I consider New Orleans to be my spiritual home.
I also spent a number of years working as both a personal trainer and an aerobics instructor. I trained for a while as a professional wrestler.
But the truth is, for as long as I can remember, I wanted to be a writer.
And I've been incredibly lucky.
I'm currently serving as president of the Southwest Chapter of Mystery Writers of America, and a term on the national board of MWA. I am also a member of Novelists Inc, the Authors Guild, Sisters in Crime, the International Association of Crime Writers, Horror Writers Association, and the International Thriller Writers. I've spoken at the Tennessee Williams Literary Festival, Words & Music, Louisiana Book Festival, Virginia Book Festival, South Carolina Book Festival, Lambda Literary Festival, Saints and Sinners, and Bouchercon. I've spoken to many high school and college writing classes about the craft of writing and about being a writer. I've been nominated for a ridiculous amount of writing awards, and have won a few times.
I've always loved to read, and still do. I talk about books I enjoy on my blog, and sometimes even interview authors I admire on there. I love to lift weights (but hate Leg Day), and before I got old I loved playing tennis, volleyball, and wrestling. I was a jock in high school—but I was rather hyperactive in high school: I also was in plays, competed in Forensics, wrote for the school paper, and belonged to any number of clubs and organizations. In college, I pretty much confined myself to my fraternity. But I do love to dance, and I love dance music. I love history and have studied it all of my life; the sixteenth century is one of my preferences for drama and spectacle. I also love American history, and can't read enough of it."
Women of the Mean Street, edited by Greg Herren and J.M. Redmann, won a 2011 Rainbow Award as Best LGBT Mystery / Thriller.
Source:
http://gregherren.com/about-greg/
I'm still working my way through the Chanse MacLeod series, but what I really like about Greg Herren is that he excels at setting. I've never been to New Orleans, but the way he draws the city in his books makes me think sometimes that I have been. His love for the city shines right through his prose. --Kate McMurray
Further Readings: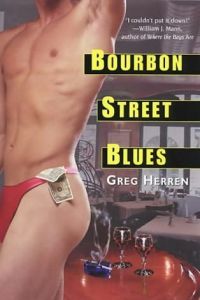 Bourbon Street Blues by Greg Herren
Hardcover: 304 pages
Publisher: Kensington (April 1, 2003)
Language: English
ISBN-10: 0758202121
Amazon:
Bourbon Street Blues
Native boy Scotty Bradley knows how to bend his hometown's every unwritten rule. it doesn't hurt that he's buff, boyish, and completely irresistible, with a job by day as a personal trainer...and the occasional night gig dancing on the bar for rent money. Hey, it's a living. Scotty likes his relaxed life, living upstairs from the coddling lesbian couple he calls his aunties, and hanging out with his eccentric, close-knit family -- stoner-hippie parents, Uptown but well-meaning sister, and scheming lawyer brother. And with New Orleans's biggest circuit party -- Southern Decadence -- about to hit town, Scotty's looking forward to plenty of dancing, cruising, and maybe, just maybe, an adorable Mr. Right.
But then Scotty discovers one of his best clients in front of his Decatur Street apartment, shot through the head, execution style. It's even more troubling when his friend Jeremy, he of the disappearing act a year ago, reappears briefly in the bar, begging Scotty to take care of a computer disk for him and spouting something crazy about people being after him. And things get really, really bad when everyone from the cops -- who don't believe anything Scotty says -- to a shadowy man claiming to be an FBI agent is tailing Scotty's every move, waiting for a chance to arrest him...or worse.
Now, with help from his best friend David and a gorgeous new lover who just happens to be a cat burglar of the real and not-Cary Grant variety, Scotty's diving into a web of tawdry Southern secrets that stretches all the way to a corrupt political machine whose members would do anything and use anyone to get to Scotty and that disk. Suddenly, the Big Easy's liveliest gay celebration has just taken on asinister glow, and Scotty's carefree living is turning into a desperate race for his life.
Women of the Mean Streets: Lesbian Noir edited by J.M. Redmann and Greg Herren
Series: Bold Strokes Victory Editions
Paperback: 288 pages
Publisher: Bold Strokes Books (August 16, 2011)
Language: English
ISBN-10: 1602822417
ISBN-13: 978-1602822412
Amazon:
Women of the Mean Streets: Lesbian Noir
Amazon Kindle:
Women of the Mean Streets: Lesbian Noir
Women. Crime. Justice. At least the search for it. On the mean streets, the back allies, the dark corners.
These are stories of tough women in hard places. The nights are long, the women are fast, and danger is always a short block or quick minute away. Edited by award winning author/editors J.M. Redmann and Greg Herren, Women of the Mean Streets is an anthology of some of the top, tough women crime writers today, noir stories with a lesbian twist.
More Spotlights at my website: http://www.elisarolle.com/, My Lists/Gay Novels

More Rainbow Awards at my website:
http://www.elisarolle.com/
, Rainbow Awards